Mexican artist and cultural icon Frida Kahlo is arguably the world's most famous female Surrealist, but women across the globe have long employed art to plumb the depths of dreams and the unconscious. As art historian Whitney Chadwick notes in LACMA's catalogue In Wonderland: The Surrealist Adventures of Women Artists in Mexico and the United States, the companion to the museum's 2012 exhibition, "Surrealism's legacy included a model for creative practices that encouraged many women to adapt its principles in their search to link artistic self-identity to the realities of gender and female sexuality."
Despite the Surrealist movement that took place in 20th-century Europe being male-dominated, women have contributed to this genre throughout that century—and all the way up to the contemporary period, as seen in the work of Nicole Eisenman and Inka Essenhigh today. So, Kahlo is sitting this one out as we highlight eight historical female Surrealists whose careers spanned everything from painting to poetry.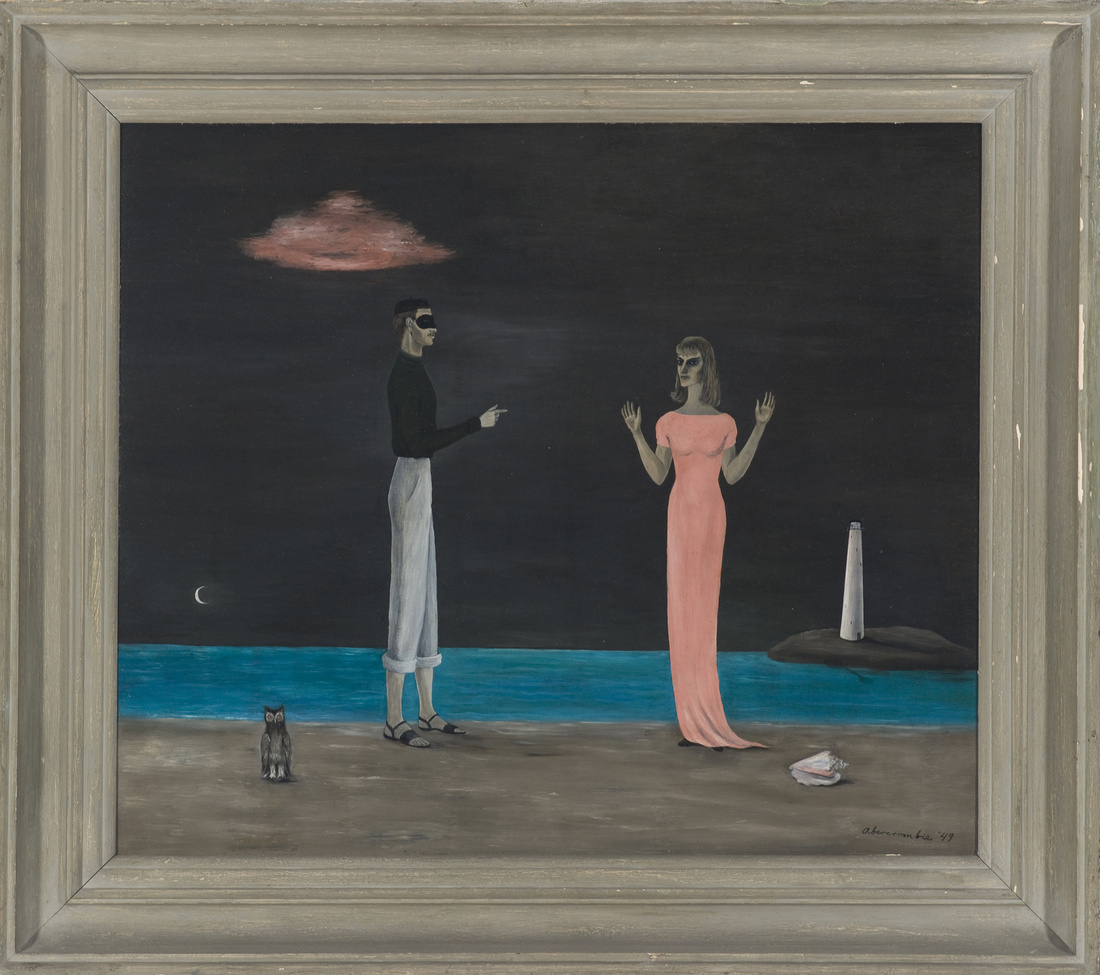 With a penchant for the moon, black cats, and mysterious women, Gertrude Abercrombie conjured an imaginary, gothic Midwest in her paintings. Originally from Austin, Texas, Abercrombie spent most of her life in Chicago and, by the 1940s, she and her husband settled into a lavish Victorian home, where they often threw extravagant parties for jazz musicians and artists. In contrast to her revelrous life, Abercrombie's flat figures and expansive landscapes—which are quietly illuminated by the night sky—render the mundane otherworldly.
Remedios Varo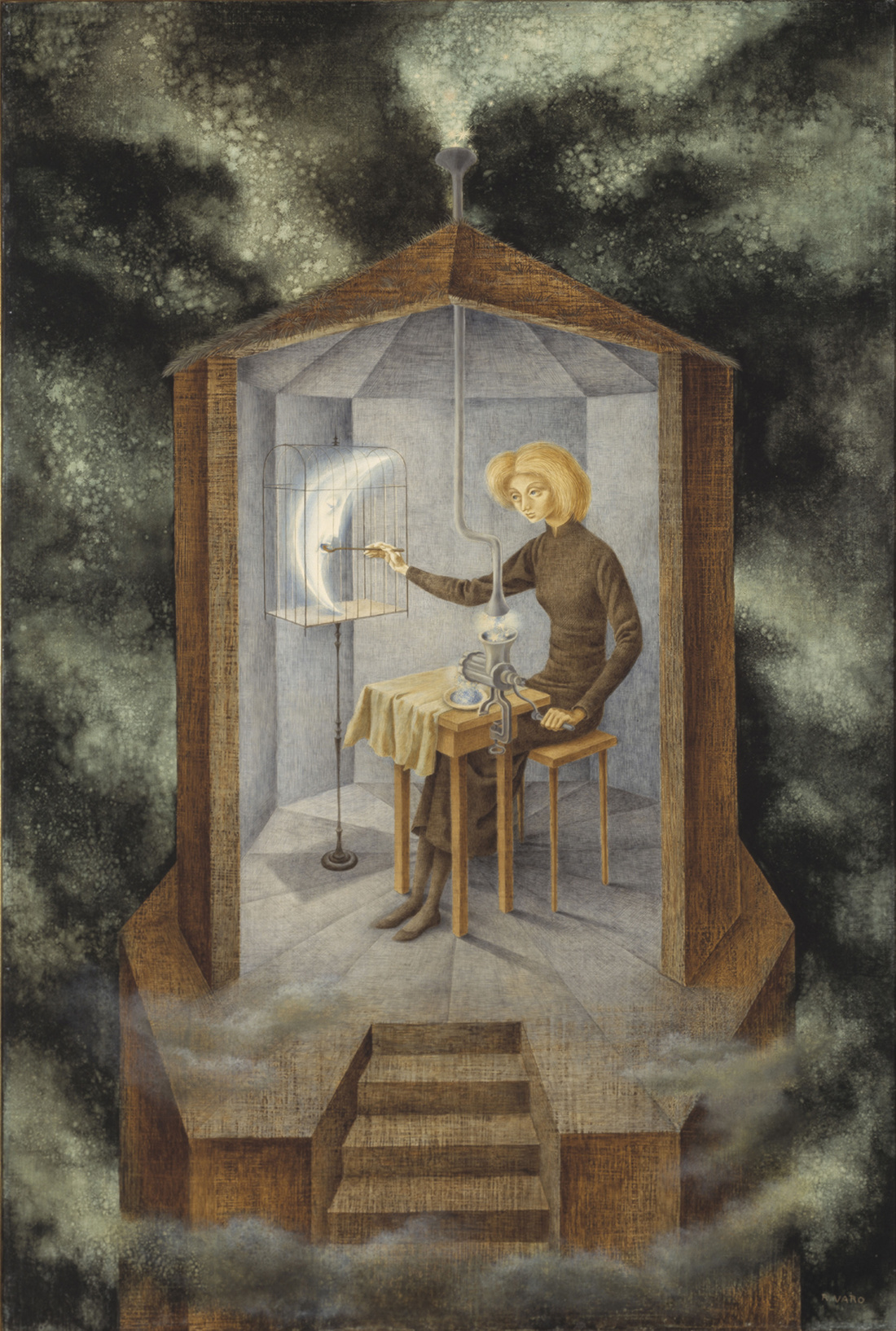 At the start of World War II, the Spanish painter Remedios Varo and her second husband, the French Surrealist poet Benjamin Péret, fled Franco's Spain and Nazi-occupied Paris, eventually settling in Mexico, where Varo developed her witty style of Surrealism. Highly influenced by literature, nature, religion, and her friendships with fellow Surrealist painter Leonora Carrington and the photographer Kati Horna, Varo translated her intellectual and spiritual curiosities into fantastical images. From the cloaked woman with almond-shaped eyes and wild silver hair, preparing to free herself from a male spirit in Woman Leaving the Psychoanalyst (1960), to a slender female figure who is seen perched in space, grinding the stars, and feeding a caged crescent moon in Celestial Pablum (1958), Varo's paintings are the wildest of dreams.
Tanning's seductive and haunting Birthday (1942) is a self-portrait of the artist as a bare-breasted woman. She and a mythical, winged creature gaze out at an unknown intruder—who might be us, the viewers, disrupting the figures before they embark on a journey through the infinite hallway of open doors. Inspired by Dada, Tanning often depicted young women in emotionally and sexually charged states of repose. She lived in New York, where she met fellow Surrealist (and her eventual husband) Max Ernst. The pair spent time in the city and in Sedona, Arizona, before moving to France in the late 1950s, where Tanning began to focus on abstraction and soft sculpture. Upon Ernst's death in 1976, Tanning returned to the States and subsequently published two memoirs.
Helen Lundeberg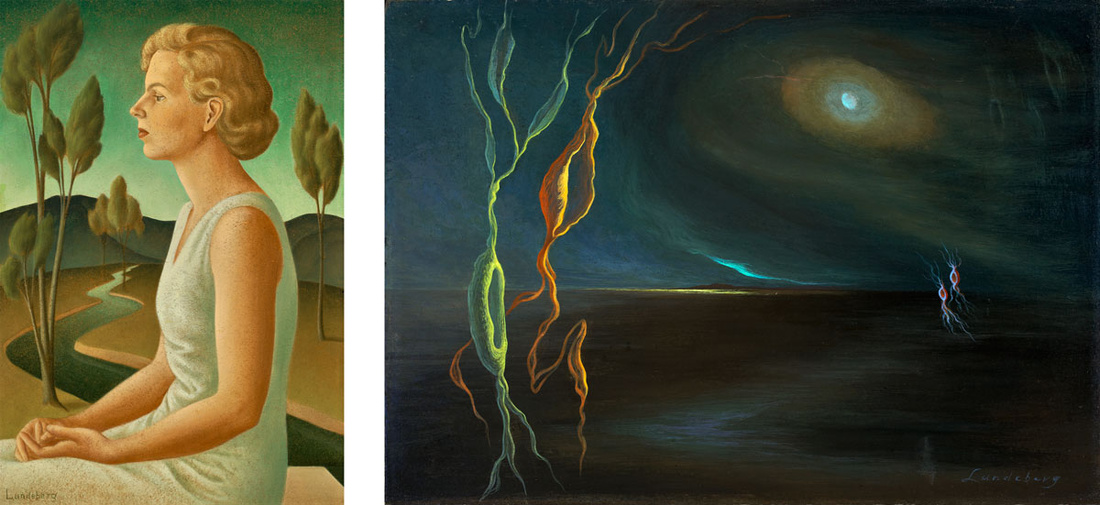 In 1934, one of California's most significant female Surrealists, Helen Lundeberg, and her husband, Lorser Feitelson, created what became known as Post-Surrealism, penning the only U.S. manifesto to challengeAndré Breton's European Surrealism—which advocated for the expression of "pure, psychic automatism." Unlike her European counterparts, Lundeberg believed in employing a more rational form of creativity to depict the unconscious mind. Like a lucid dream, her paintings carefully reflect on the mysteries of biology, astronomy, and physics.
Meret Oppenheim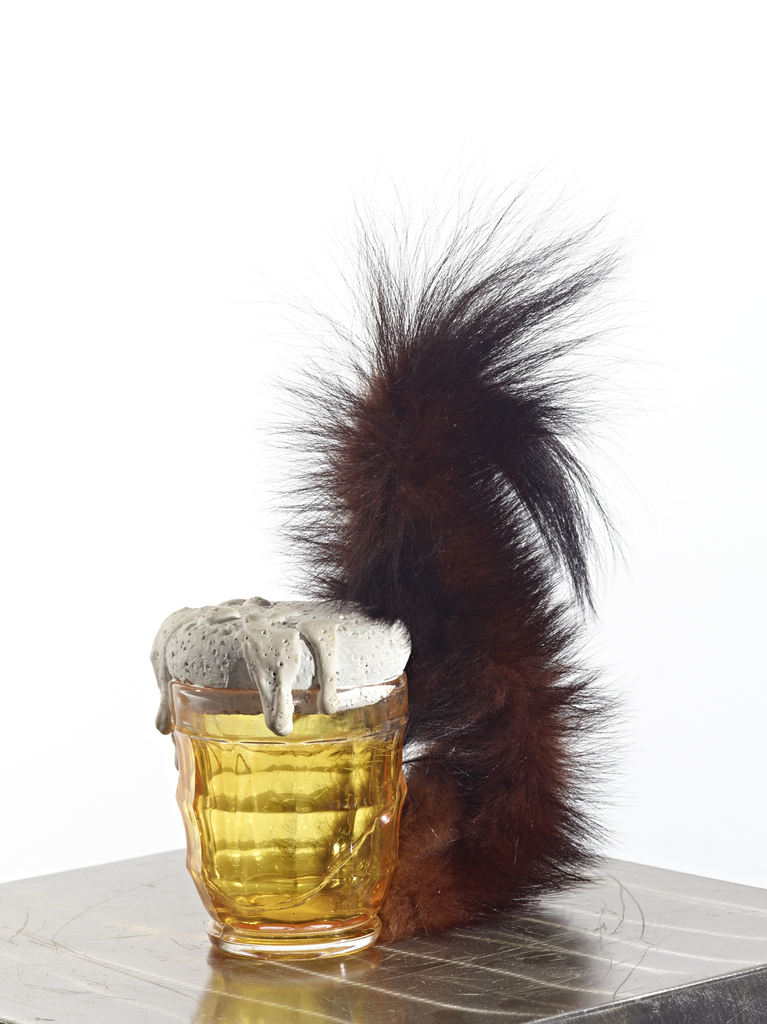 In 1930s Paris, Meret Oppenheim moved in the same circles as Breton and Ernst, and famously worked as Man Ray's photographic muse in a series of nude and erotic portraits. Although she experimented with painting and photography, Oppenheim is best known for her signature fur-covered dishware. This transformation of everyday objects into symbolic references, which point to society's exploitation of the female body, garnered Oppenheim recognition as much more than just a muse.
Kay Sage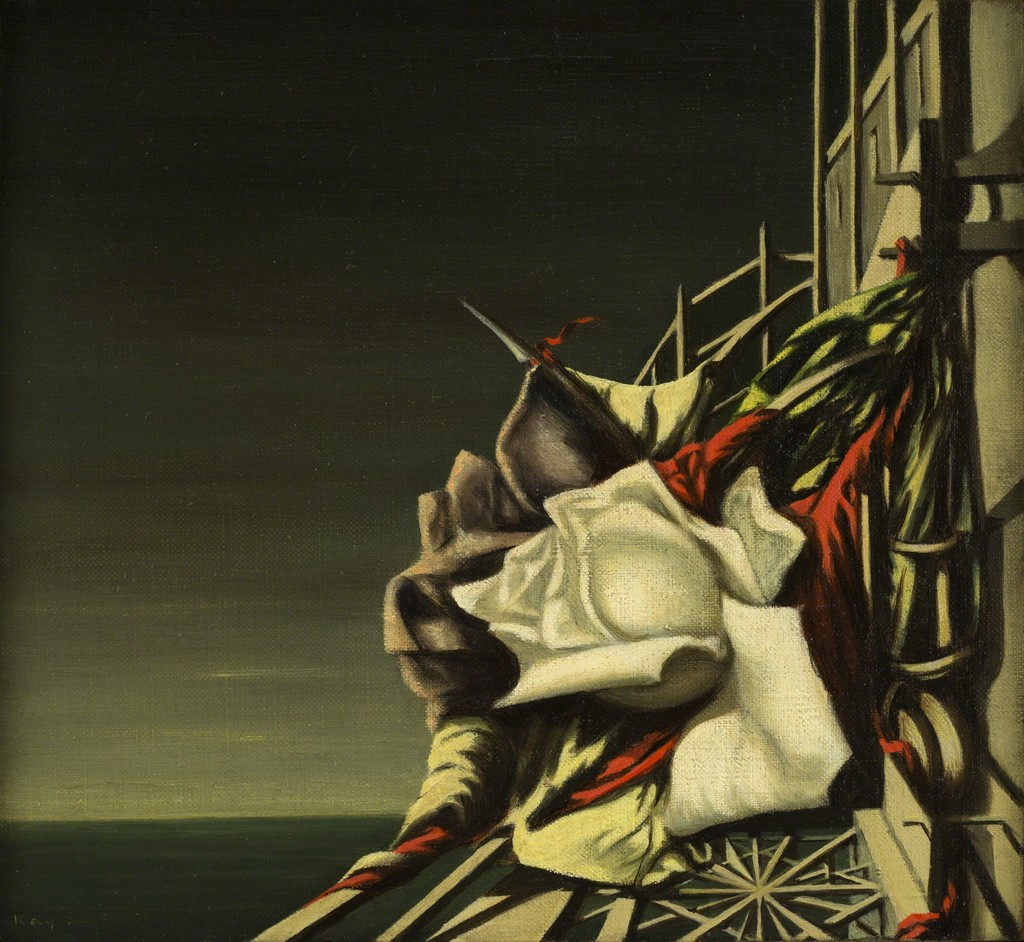 The evocative Surrealism of Kay Sage—which recalls Giorgio de Chirico's shadowy landscapes and stark buildings, and her husband Yves Tanguy's spheric forms in desolate spaces—was tremendously influential in the United States in the 1930s. Sage spent her childhood in Europe and New York, and later integrated herself into the Parisian Surrealist boys club, where she met Tanguy in 1939. Once she developed her mature style, featuring strong architectural forms and precise horizon lines, Sage routinely exhibited in New York and Europe throughout the 1940s and '50s. She tragically began losing her eyesight in the mid-1950s, but went on to write four volumes of poetry and the beginnings of a memoir.
Rosa Rolanda
Originally from California, Rosa Rolanda maintained a celebrated career as a broadway dancer in New York during the early 1900s, but, influenced by a romantic affair with the Mexican artist Miguel Covarrubias, she developed a knack for photography after they moved to Mexico in 1925. Highly influenced by Ray's exploration of photograms, which he called "rayographs," she employed the mechanical technique to create self-portraits of her subconscious.
Leonora Carrington
The U.K.-born artist Leonora Carrington had an illustrious career that spanned seven decades, producing a diverse range of paintings and sculptures that explored mythical subject matter. She also published stories. Settling in France with partner and fellow Surrealist painter Max Ernst, Carrington exhibited at the "International Exhibition of Surrealism" in 1938. Within the next four years, she would suffer a nervous breakdown, participate in the 1942 exhibition "First Papers of Surrealism" in New York alongside Marcel Duchamp, pen the surrealist memoir En bas (Down Below) (1943), and emigrate to Mexico. There, Carrington developed a close friendship with Varo, married the Hungarian photographer Emeric Weisz in Mexico City, and mastered her captivating, magical realist style.